Record Turnout at Vaccine Clinic
September 10, 2021
Fall semester has brought new and returning students back to campus. In addition to establishing a mask mandate to protect students, faculty, and staff from the spread of COVID-19 and create a safe learning environment, Century College welcomed a mobile vaccine clinic on August 25. Carmian Seifert, the Director of Student Health Clinic at Century, announced that the clinic, which looked like a mobile home parked in the front lot of West Campus, vaccinated 81 people, 64 of which were Century College students.
The mobile clinic was a working partnership between Century College and the Washington County Department of Public Health & Environment. Seifert coordinated the event with Washington County officials. Individuals ages 12 and up were eligible to receive the Pfizer vaccine provided by the mobile clinic.
Participation was almost triple the number of individuals who received a vaccine during the vaccination clinic on campus on May 25. Many factors may have resulted in low participation in the May event. Seifert noted that most classes continued to be held online, so students were not coming to campus. Leading up to the August 25 event, many marketing resources focused on getting the word out about this event. Other influencing factors included the return to campus, pandemic numbers continue to surge, and the county offered incentives to patients.
If you missed the event, the Mobile Clinic returns to West Campus on September 14, 15, and 16. You can add the event to your calendar.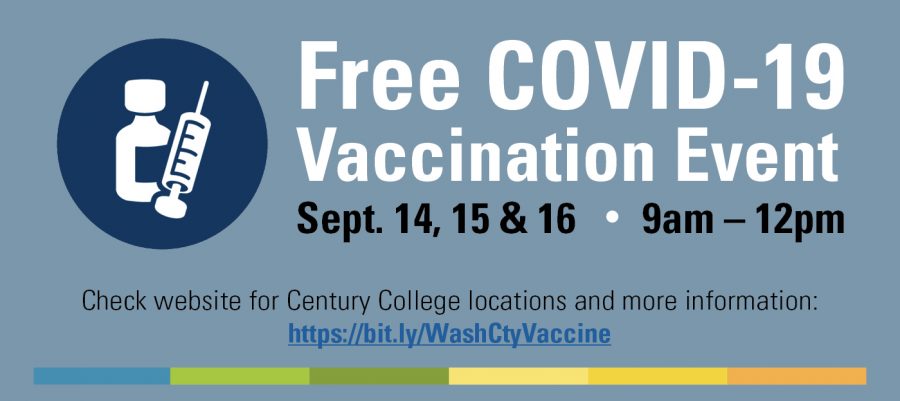 For more information from Washington County, visit: co.washington.mn.us/covid19vaccine and learn more about locations for a vaccine. Or use the following link to find additional vaccination sites beyond Washington County check out: vaccineconnector.mn.gov/en-US.