Restaurant Review: El Pariente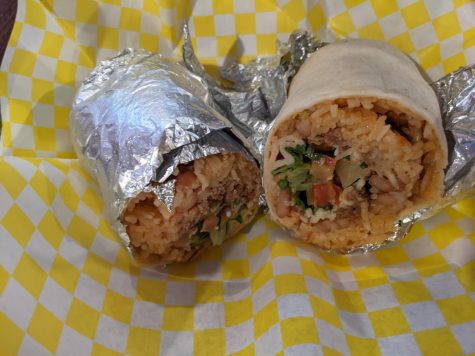 I felt meh about cooking last night, so the crew decided to try out El Parienté Mexican Grill in Mahtomedi at 966 Wildwood Rd in the Wildwood Shopping Center. We took full advantage of the taco Tuesday special: buy three street tacos and get the fourth free.
Mexican Street tacos do not include tomatoes, cheese, or sour cream. These additions are an American variation. You don't have to have the same filling for all four tacos. You can mix and match if you like. And there are many fillings to choose from, such as pinto beans, steak, chicken, ground beef, marinated pork, chorizo sausage, and many more traditional favorites.
Choose your filling, onions, Pico de Gallo, cilantro, and a homemade spicy sauce (green) on the side. I had never tried Street tacos before without cheese, lettuce, or sour cream. Surprisingly, I didn't miss them. I loved the simplicity. The corn tortillas were small but tightly packed and doubled up like traditional Street tacos, so they were easy to hold without tearing the tortilla. The hot sauce is fantastic. The menu says spicy sauce but looks and acts more like a chunky green salsa that comes on sweet, turns spicy and harmonizes beautifully with the taco fillings. The spice is more of comforting warmth. Because of this, you can taste the assorted flavors of the contents in each bite. The spice level may seem bland for some folks. You can add more salsa without fear of drowning out the other flavors.
We also tried the burrito with ground beef, rice, beans, lettuce, pico de gallo, cheese, and sour cream. The burrito was dense and packed with a mild flavor like the tacos. If you want more spice, add more salsa.
El Parienté 's atmosphere is cozy, with a few tables in the middle of the room and booths along the wall. The walls are a warm, inviting orange peppered with brightly colored decorations. This place has an at-home feel, and I will be back for taco Tuesday without a doubt.
Have your school ID handy because Century students receive 10% off with it. Prices are a little higher than a franchise, but the cost is worth it because the food is excellent, and you're supporting a small business.
The hours are Sunday-Thursday 10 AM to 9 PM. Friday and Saturday the hours are 10 AM to 10 PM. Parking is available in front of the restaurant in addition to picnic tables.
Thanks to Qiana Whidby, Alphonso Guerrero, and Bryant Chacon Vazquez for recommending the El Parienté Mexican restaurant in Mahtomedi on the Century College app. The Century Times asked students about their favorite local restaurants a few weeks ago.
The Century Times will be reviewing other places mentioned in the Century College app, like Casa Lupita in White Bear Lake and Cal's Pizza Factory in North St. Paul. Rachel Liesman recommends the broasted potatoes from Cal's. Alphonso Guerrero says Fiesta Cancún in Oak Park Heights is good too. Leave a comment at the end of this article to make other restaurant review suggestions.
Leave a Comment