Great Axe-pectations
March 2, 2022
Imagine for a moment that you are surrounded. There are things coming at you from every direction. There is no escape. Every angle has a new problem. What would you do?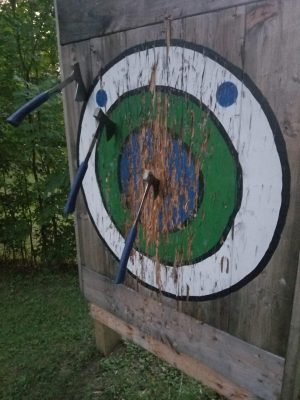 I would get my axe out, so to speak. I would find the nearest axe board and just start throwing. The stresses, problems, and pressures would slowly begin to chisel down to solvable solutions. Doing something physical helps me with these invisible attackers.
I was introduced to axe throwing at the Renaissance Festival a couple of summers ago. How often can you just hurl an axe at a target? It looked totally awesome and I instantly wanted to try it. I liked it so much that my husband put axe boards in the backyard for us to use whenever we want. We throw them often and have gotten pretty good at it too.
Over the past few years axe throwing has become an increasingly popular sport. Similar to dart throwing, the idea is that you hit the center of the board by throwing an axe from 12 feet away.  There are even world leagues that compete at amateur and professional levels.  For me it's a great way to release stress. I'm able to put my focus on something else for a while and do something physical. It is a fun activity to do myself or with a group of people. Also, learning a new skill helps build confidence.
The key to throwing is not in your arms. It doesn't matter if you can throw really hard. The answer is in your core. You must engage your abs as you are throwing. Your arms are just there to hold the axe. You don't need much force.  Sounds simple enough, but I have seen grandmothers stick perfect targets, barely able to lift the axe, while young, strong men have thrown hard only to watch their axe bounce off the board. It's all in your form.
There are axes designed specifically for throwing.  They typically have straight, wooden handles, about 14 to 16 inches long. The heads are made of steel and weigh around 1.5 lbs. with the total axe weighing about 2.35 lbs. The boards they are thrown at are made of 4X4 wood planks with a bullseye circle in the middle.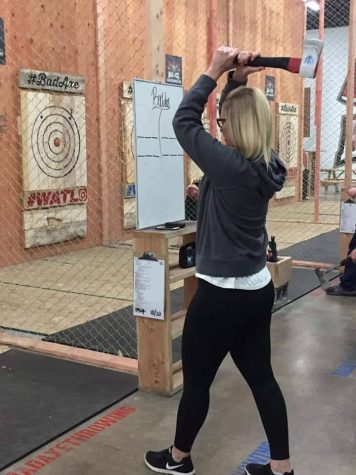 Finding a place to throw axes is becoming easier with its growing popularity. There are two major venues in the Twin Cities that are dedicated to throwing: Bad Axe in Minneapolis (611 Hennepin Ave) and Flannel Jax's in St. Paul (755 Prior Ave N). If you want to join a league or really make axe throwing a major event (birthday party …well, any type of party really) these are the places to go. A quick Google search will tell you a number of places that have added axe throwing to their list of activities. Many bars and arcades offer it as well, such as The Lumberjack in Stillwater. Prices vary by venue but generally anywhere from $25 to $45 per person. There usually isn't a time limit, but plan on throwing for two to four hours.
Throwing axes creates memories. You may or may not remember the time you binge watched Netflix or the time you watched TikTok endlessly, but you will certainly remember the time you got together with a group of friends and family to throw axes. You will remember the laughs, inside jokes, and the way it felt when you got that axe to stick to the board.