Century College General Maintenance Workers
April 1, 2022
The Century College general maintenance workers are essential workers for the services they provide to the community of the college organization with extraordinary pride for the safety and cleanliness of the campus. Their arduous work can be recognized all around the college campus that students, staff, and faculty can appreciate. The main lobby is a beautiful place to study and relax with its clean and welcoming environment of lush indoor plants and wall-size windows.
Since the Covid-19 Pandemic hit in March 2020, the general maintenance workers at Century have been maintaining excellent clean standards. Century has also been following the Covid-19 safety protocol procedures. The World Organization (WHO) provided a safe and healthy campus environment for the students, staff, and faculty. More importantly, these procedures prevent the spread of the virus.
Covid-19 also affected Century colleges' General maintenance staff capacity. Many of those who quit were college student workers because they feared contracting the virus and risking their families' health. Despite the struggles with staff shortages, they managed work schedules as best as they could by putting in extra hours of work to continue to maintain the campus. Thankfully, Century College's financial aid department offered a temporary Covid-19 pay raise of $15 an hour for the students who had economic issues.
Working for Century College as general maintenance work is also a terrific opportunity for college students to take advantage of because the students' school and work schedule are flexible to a students' priorities for an easy transition into the workplace. Plus, the college provides affordable benefits for all the workers. College students will enjoy being general maintenance workers, but they will also appreciate the convenience working on campus offers.
Because Century College has a fantastic team of general maintenance workers, we can rest assured that the college campus is clean and disinfected for the students, staff, and faculty. It is easy to see that the general maintenance workers are dedicated and devoted hard workers.
These are some of the general maintenance work duties they must do every day: clean the cafeteria, clean the places most touched, clean the bathrooms, clean the faculty offices, pick the trash up, and so much more.
Century College employees as General Maintenance Workers, starting from left to right: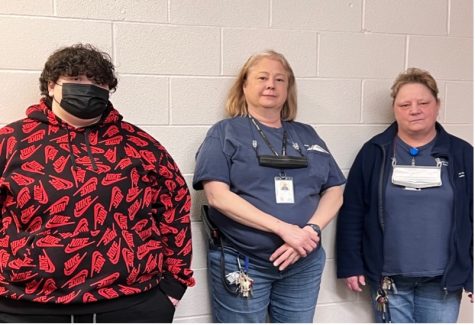 I had the pleasure of meeting and interviewing three out of the nine general maintenance essential workers at Century College.
First, meet Cienna Cheney, an awesome and determined student here at Century College who has worked as an essential worker since 2021. Cienna says she is not a morning person, but she strives to do her best; and with work and school schedules combined, she somehow manages to persevere through the challenges she faces throughout the day. Also, Cienna said that her boss, Kris, is easy-going and lenient with her work if it is not done on time and lets her finish the next day, and accommodates her school schedule with her work schedule.
Second, meet Linda Livingston, an extraordinary person who works as a General Manager and has been an essential worker since 2002. She feels content working at Century College because she likes her work and especially the affordable benefits they provide for the workers
Third, meet Kris Price, a General Maintenance Lead and Student Worker Supervisor, an extraordinary essential worker. She keeps the workplace in order.
And finally, I also had the pleasure of meeting and interviewing Cynthia T., a staff member at Century College. She said that the general maintenance workers are wonderful because they work so well. Every day she finds her office nice and clean with the trash picked up, and when she walks into the bathroom, it always looks clean.
The general maintenance workers are essential workers that most of you may not
know but may recognize them by their hard work shown throughout the campus as caring, devoted, and diligent workers. They do a fantastic job keeping the campus disinfected from the virus for the students, staff, and faculty and supply a welcoming feeling in the atmosphere. I recognize what the general maintenance workers provide for us, and I thank them for being some of the greatest essential workers during this Covid-19 pandemic. It is important to show them that we notice and appreciate their arduous work with a simple thank you.
For more information on Covid-19 safety check out >> https://www.who.int/news- room/questions-and-answers/item/coronavirus-disease-covid-19-health-and-safety-in-the- workplace