The Niche Gallery Gets "Surly"
January 31, 2023
Look in the Niche Gallery on West Campus and you'll find a photography installation by Outstanding Student Teagan Greene.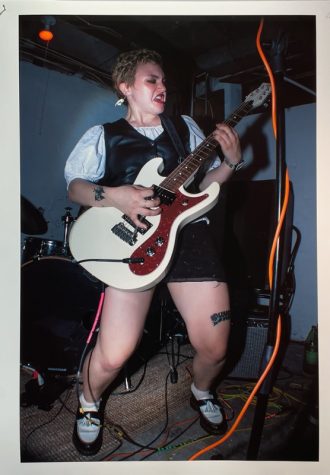 Teagan Greene is a photographer from St. Paul Minnesota, who focuses on concert and portrait photography. Local music scenes are a big piece of inspiration for much of her work. She aims to focus on the real, raw, and intimate moments between people, emotions, and the ways in which people interact in spaces they consume.
In her show at the Niche Gallery, she focuses on the rowdy, grungy, and energetic club scene at small Twin Cities venues like The Rose Club. Her photos are a slice of the chaotic creativity that the heirs to the hardcore punk scene embody. There is a focus on dynamic action and what can best be described as the serious generation of sweat, heat, and music.
Among the photos exhibited in the Niche Gallery for Teagan's exhibition are some images of the Queercore, alternative punk band Surly Grrly and the POC Emo Trash band Virginia's Basement. They are rising stars of the Minneapolis music scene and some of the hardest working bands in the Twin Cities.
Teagan has been accepted to the Minneapolis College of Art and Design. She is planning to continue evolving her photography skills and making more art about the Twin Cities' club scene.
For more about Teagan: https://teagan1268.wixsite.com/teagangreene
Check out Surly Grrly on Instagram: @surlygrrly
More on Virginia's Basement on Instagram: @virginiasbasement
Find Rose Club on Instagram: @roseclubstp