Stillwater, Minnesota is the Perfect Place for a Weekend Getaway
Stillwater, Minnesota is the Perfect Place for a Weekend Getaway
Did you know that Stillwater is the birthplace of Minnesota? Stillwater is a small town about 20 minutes east of Century College. It is my hometown. Stillwater is located alongside the St. Croix River and the views are beautiful during the changing seasons. Stillwater is the perfect place to go to get out of town for a little while and gain new experiences. There is amazing food, fun shops, exciting activities, and much more. Whether you decide to spend the weekend or even just a day in the town, there is something for everyone to enjoy in Stillwater, Minnesota.
If you are interested or are planning to visit Stillwater, there are a few different places you can stay. The three most popular hotels are Hotel Crosby on the north end of the town, the Water Street Inn in the center, and Lora on the south end of the town. Out of these three hotels, Hotel Crosby is the most expensive, featuring a pool and spa, while the Water Street Inn is the least expensive. Lora has modern style rooms while Hotel Crosby has industrial style rooms. Information on the Water Street Inn's website states "Settle into your Victorian Suite, designed with special attention to details and decor and featuring queen-sized beds, double whirlpool baths, and gas fireplaces." All these hotels provide a slightly different experience, so you have the option to pick the one that best suits you.
One of the best parts of downtown Stillwater is their wide variety of food options. Some of my favorite restaurants include Leo's, Lolo American Kitchen, and The Oasis. Leo's is a classic burger and malt shop on the corner of Main Street and Chestnut. They have a wonderful crispy burger as well as many other options like salads and chicken. The malts are the true star of the show. Leo's has some of the highest quality malts with many flavors to choose from. My personal favorite is their banana Nutella malt. Another wonderful restaurant you should check out if you are in Stillwater is Lolo American Kitchen, also located on Main Street. Lolo is an American-style restaurant, but their menu has many unique items like their smoked sea salt fries that come with rosemary and a basil aioli. They have a wide assortment of dishes to choose from. If you are in town for the weekend, a wonderful place to grab breakfast is the Oasis. The Oasis is an old-fashioned diner style restaurant located a little south of downtown Stillwater on highway 95. They have all the classic breakfasts and huge pancakes which are delicious. Stillwater has many more food options available, but these are some of my favorites.
Something wonderful about staying in Stillwater is that there are so many shops to check out! There are gift shops, boutiques, candy stores and so much more. There is a store called Lake and Company which has outdoor gear and apparel suited for camping and other activities. Minnesotans have a special love for the outdoors, and I think that is why this store is such a hit. There are also two Minnesota shops that are made up of Minnesota artists. The first shop is called Smith and Trade, and the second shop is called Minnesota Made. Both shops provide all sorts of Minnesota made products so you can shop local and find unique gifts for people. Apricot Lane Boutique is a trendy clothing store which has lots of cute outfit options and is the perfect place to do some retail therapy. There also are a few different candy stores including Barbara Ann's Fudge Shoppe, Tremblay's Sweet Shop, and Candyland. You could spend at least one day shopping along Main Street in downtown Stillwater.
"
"I like the winter lights the most in Stillwater; they're beautiful to look at, like top tier gorgeous."
— Century College Student Trish Welsch
"I like the winter lights the most in Stillwater; they're beautiful to look at, like top tier gorgeous." – Century College Student Trish Welsch
If shopping isn't something you enjoy, there are many other options. Stillwater is full of activities. One activity that I especially enjoy is going to Kari's Create & Paint Studio. You get to pick out a piece of pottery to paint and design it yourself. They also have the option to paint canvases. Smith and Trade also hosts art classes that you can sign up for in advance which are great if you are trying to find a group activity to do. In the winter, the town has lights and a Christmas tree put up to spread the holiday joy. I asked Century College student Trish Welsch if there was anything specific she liked about Stillwater and she said, "I like the winter lights the most in Stillwater; they're beautiful to look at, like top tier gorgeous." You can also walk up the historic stairs to get a beautiful view of the St. Croix River and Stillwater, although you might be out of breath by the time you reach the top. Another fun activity to do when you are in town is to walk across the historic lift bridge. The lift bridge is still in use for boats to pass underneath, but not for cars to drive on. Stillwater is known for their festivities and gatherings, so make sure to check out the Greater Stillwater Chamber of Commerce website and social media (such as Discover Stillwater Instagram) when you are coming to town to see if there are any fun events going on.
The lift bridge in the springtime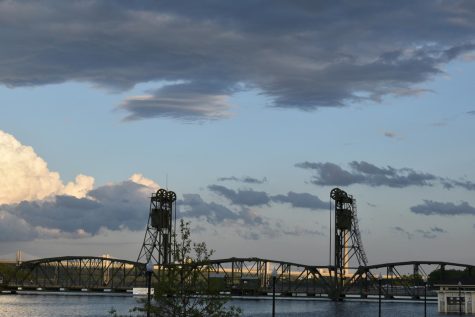 Stillwater has so much more to it than what I have shared in this article, and you truly have to visit to get the full experience. It is a wonderful place for a short vacation that doesn't take you too far from home, but you still get to create memories. If you're looking for a weekend getaway, I highly recommend visiting Stillwater, Minnesota.
Leave a Comment