Artistic Integrity and AI
April 18, 2023
The Challenges of Maintaining Artistic Integrity as Art Becomes a Monopoly
As technology continues to expand, more and more tools have been built to make jobs easier, but how far does this growth go, and when does it become a risk to artists' jobs? Enter AI art. Artificial Intelligence (AI) is a tool that can be used across different industries, like the TV, film streaming industries. While there can be benefits to the use of AI, the way it is being used in creative fields has been questionable. Even though art is something that can be used to express yourself, individual creativity has been undervalued in big corporations and across industries.
AI generated art, or just "AI art" for short, is used to generate images from previous existing images to create something new. Although the existence of AI art has been around since the 1960's, it has only just gained notoriety in the past year with releases like DALL-E 2 or Midjourney, according to Engineering & Technology. Last year, during the Colorado State Fair annual art competition, one of the contestants submitted an AI generated drawing that won the contest and gained $300 from winning. After news spread about the contest, controversy surrounding the ethics of AI have been brought up, stated by The New York Times. The most glaring issue with AI art is the people creating it often take other artists' images from the Internet. As The New York Times puts it, "artists who upload their works to the Internet may be unwittingly helping to train their algorithmic competitors." While AI can make a seemingly good looking drawing in less than five minutes, it only managed to do so by stealing other people's drawings and rearranging them to be something else.
"
I'm kind of feeling violated here."
— Kelly McKernan
While AI art could have benefits, like posting memes for fun, or be used as some form of inspiration, the negatives so far have outweighed the positives. A podcast from NPR News called "The Indicator from Planet Money" talks with visual artist Kelly McKernan about their thoughts on AI art. She mentioned she would post her artwork to DeviantArt, an online community where artists can share their work for fun as well as getting feedback from other users.
When most of the AI generators came out last year, McKernan noticed people starting to use prompts of the art she posted online. When McKernan expressed her thoughts, she said, "There's more and more images with my name attached to it that I can see my hand in, but it's not my work. I'm kind of feeling violated here." Around that time, DeviantArt was also trying to promote a new subscription service to allow users to generate AI photos and promote them without the original artist's permission. While the service never got through, the risk of people gaining money from others' work without their permission has become apparent.
As AI art continues to advance, artists have now become concerned about how their jobs will be affected. During the making of this article, a short animated film was released on Netflix Japan called "The Dog & The Boy." Although the animation seems well done, it gets unpleasant once you realize the backgrounds were made with the help of AI, without crediting the original concept artists. Netflix Japan cites a labor shortage for animators as a reason to use AI; however, Netflix Japan has been accused of paying animators extremely low wages and exploiting unpaid freelancers.
"
Why should anyone put the effort into drawing when a computer can do it better than us?"
It's becoming more common that big companies like Netflix, DeviantArt, and many other media companies are using AI as an alternative to save money instead of having to pay artists for their work.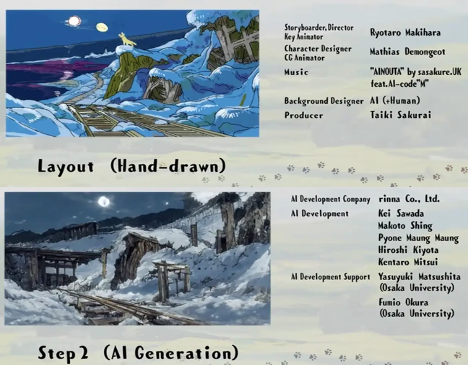 Right now is a time where most artists are probably thinking, "Why should anyone put the effort into drawing when a computer can do it better than us?" and it's completely justifiable. Although everything that was mentioned about AI has been focusing on art, who's to say it won't start affecting other parts of entertainment like acting, writing, or music? The sad truth is that most people don't pay attention to whether art is AI generated or human-created so long as it looks pretty, and it will only get worse as AI gets better. Creativity is a part of what makes us human. When we strip those key features and pass it to an AI, it undermines the very essence of who we are and damages individuals in favor of corporations.