New Work "Resin"ates in the Niché Gallery
April 19, 2023
Art Professor Neil Johnston is exhibiting his most recent body of work: To & From the World a dialog with space(s) at Century College's West Campus Niche Gallery. The work is an astounding assemblage of multilayered resin sequences, oil on canvas painted en plein-air (painting outside in open air), and sumi ink studies. The use of various mediums and techniques in Professor Johnston's artwork demonstrates his versatility as an artist and his ability to experiment with a range of styles. Visitors to the Niche Gallery will be treated to a visually stunning exhibition of art that demonstrates his talent and creativity.
Viewing this amazing show is about exploring the connection between visual art and human emotions, and how different artistic styles can evoke different feelings and reactions in people. Through a variety of mediums and techniques, the show seeks to highlight the power of art to move, inspire, and transform us on a deep emotional level.
I wanted to find out more about how Professor Johnston engages in making art and especially how this current body of beautiful work came to be.
MR: Where are you from and how does that affect your work?
NJ: I grew up in Circle Pines, Minnesota. My family just loved to be outside all the time. Growing vegetables, being outside, and camping—we did so from an early age, and I was around five when I went on my first Boundary Waters canoe trip. Being outside and paying attention to nature was just part of growing up.
However, even though I was so involved in the outdoors, until a few years ago, I mostly created work in my studio. I was trained as a billboard painter right out of high school, and I did that for a long time, and then I went back to school and got my degree. So, I was a production painter—really an advertising painter—and then I went to school to become an artist. I think that after working as a billboard painter, I was burned out from painting outside. I would paint these billboards in the middle of winter, and everything was hand painted. So, I think then I just became an inside studio artist and I have always thought of myself as a studio artist, focused intellectually on and interested in unpacking my own work.
MR: Yet, when I look at your current work in the Niche, I see plein-air painting, and for me a very distinct connection to nature in the resin works you have done.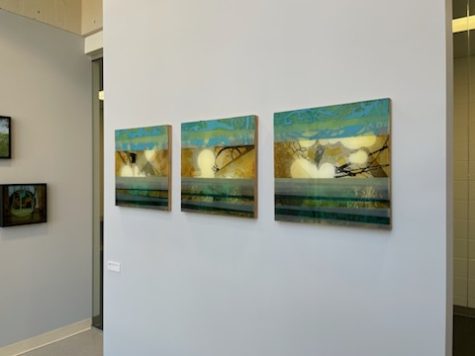 NJ: I think the COVID pandemic and being more isolated made me feel especially solitary. And in my solitary studio practice, I was really yearning to get out and get into new places and explore.
I never really embraced outdoor painting like plein-air. I made work about nature, I made work about traveling, I made work about geography, I made work about maps, I made work about GPS coordinates, and I went out and looked at landscapes, took photographs of things, and brought them back to my studio to work on. But again, I would always make this stuff right here in the studio space I've had over the years. So, this past year and a half or two years, I began to really immerse myself in new environments while I was painting, which included plein-air. I had always avoided it because of all the realistic and representational painting I had done painting billboards.
But now I have finally begun to explore these things that have kind of been part of my life. What is it about going to these places? What about that experience resonates and stays with somebody? For me, the work in the show is about carrying these views through and into unfamiliar places.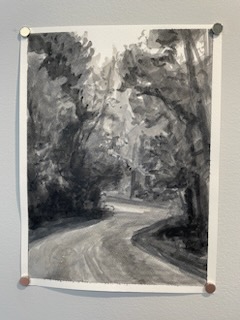 MR: Who are your biggest artistic influences and what is your favorite media to work with?
NJ: As far as artistic influences go, I do not have a particularly extensive list of people I attempt to imitate. I admire the work of artists who challenge preconceived notions about what, "art is and is not". Therefore, whenever I encounter artists who engage in this practice, they pose the query, "Is this art or is it not art?" Typically, I gravitate toward such individuals. Currently, Arturo Herrera is one of my favorites and a source of great intrigue for me. It is the collage aesthetic and his use of technology — the camera, the photographic process, and his collage work — but he also creates enormous murals.
What impressed me most was the subject matter of his work about childhood memories, about certain shapes that evoke childhood memories, such as coloring book forms and Disney, as well as the quality of Disney's illustration lines. They reminded me of artists such as Jackson Pollock, not that he is working in abstract expressionism, but that the marks are unconstrained, and he is not concerned with resembling anything, yet there is still a recognizable element present. I find that fascinating that gives me the confidence to be completely autonomous and creative in my own work.
MR: That's intriguing. You know, everyone talks about being artists and having to be "inspired" to create. We will say, "I'm not inspired, and I need to be inspired." What about you? Do you have that kind of feeling? Do you look for things that inspire you, or do you have a specific way of getting your creative juices flowing?
NJ: My working philosophy is that I am inspired by the process of making. That was a trap for me for many years, waiting for the "inspiration," and that's very much like waiting for an external stimulus to kick in, and I don't like relying on that. I do not really wait for inspiration. I just paint every day. I just paint things. I am currently surrounded by one to six pieces of work. I have six distinct bodies of work, like piles of paintings, that I can take up, add to, and return to at any time. Different bodies of work, like piles of paintings, that at any moment I can pick up, add stuff to, and get back to working on.
MR: Yes, there is an artist that I'm thinking of, Laura Migliorino who said, "The creative process is a disciplined practice, not some spontaneous outburst due to mental illness, grief, angst etc.… A successful artist works on a regular basis, making both good and bad art. They don't wait for inspiration they seek it out."
"
By devoting themselves to daily practice, art students can hone their skills and produce more significant work over time.
— Neil Johnston
NJ: Good, bad, or somewhere in between: Simply create work and art, and continue to do so. I just paint what I think is interesting. I have explored things like quantum physics and non-linear narratives, and the sensation of space and depth, like the feeling of depth in space, has been in my work for 20 years. I have just explored in lots of diverse ways, and that has come up in these bodies of work.
Many art students get stuck here because they believe they need to be working on a massive project; rather than working on something every day. It is essential to remember that progress is achieved through consistent effort, not sporadic inspiration. By devoting themselves to daily practice, art students can hone their skills and produce more significant work over time.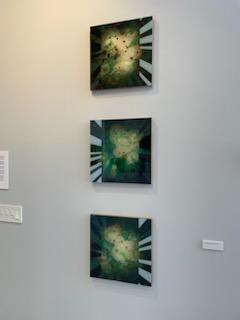 MR: The layering of resin creates a unique depth perception that is not found in traditional paintings. This technique adds an illusionary quality to the artwork, making it appear as if there are physical layers of space within the piece. In your work, I see how the resin pieces have a sense of space when looking at them. There seems to be physical layers of space in them, this illusionary quality, and you don't notice they're so deep until you walk up and you think, "Oh, there's real space there," but it's not completely physical space—this layering of resin. As I looked at some of your work in the Niche, it has the sense that the edges aren't static and that the edges aren't still. They aren't still as I move around them. The work moves, and I think that imagery—that's just what intrigues me.
NJ: This was my first time working with resin in 20 years. I was creating these realistic plein-air paintings in this body of work. For me to become a plein-air painter was so shocking and weird because I had avoided that much of my career. However, I found that it added to my experience and taught me so much about how I was interpreting the landscape and how I felt while I was there. It supercharged my senses and imagination, so that's how I got those paintings. Then, after returning with them to the studio, I really contemplated and worked through what I was feeling, what I was pursuing, and what that felt like: the impression of looking. I had these things to think about, which generated all the other work in the show. Then I thought I should bring the resin back to work that out conceptually. The resin is the piece that ties all the other elements of the show together, and working with it artistically added a new dimension to the concept.
MR: So what's next for you?
NJ: Keep making art. Explore new things and see where it takes me! Creating art is a never-ending journey of self-discovery and growth. Embrace the process and enjoy the ride!
Talking with Neil was a real pleasure, and learning about his work and practices has given me a lot to work with in my own art. Taking art classes at Century has opened my eyes to new possibilities and developed my skills as an artist. The best thing about art classes at Century College is that you don't need to be an "artist" to take any of the courses offered! The instructors are incredibly supportive and encourage creativity, which has helped me gain confidence in my abilities. I highly recommend taking an art class at Century College, regardless of your skill level.
To & From the World a dialog with space(s)
Paintings by Neil Johnston
West Campus Niche Gallery
April ll- June 16, 2023
Artist Discussion Thursday, April 20, 2-3pm
Learn more about Professor Neil's Work:
www.paintstew.com
www.facebook.com/Paintstew
www.youtube.com/@Paintstew
www.instagram.com/paintstew/