"The Chinese Lady" an impactful play about race, immigration, and American history, is currently running at the Open Eye Theatre in the Twin Cities.
The Open Eye Theatre website offers this summary of the play:
"In 1834, Afong Moy, at the age of 14, was brought from Guangzhou to America and put on display as the 'Chinese Lady.' Over the next several decades, she performed in a spectacle that both defined and challenged her own view of herself as she witnessed stunning transformation in the US. Inspired by the true story of the first Chinese woman to immigrate to America, playwright Lloyd Suh unearths hidden history and questions the way we look at ourselves and others."
"The Chinese Lady" was the discussion topic for the touring educational group: On Stage. According to their website, On Stage is "a theater outreach program that brings actors and theater educators into classrooms and community settings around the Twin Cities." The group travels to colleges and communities all over the Twin Cities area and is built of a dynamic and diverse team.
Recently, Lucas Erickson, Warren Bowles, and Wendy Knox from On Stage visited Professor Corey Culver's Intro to Sociology course at Century College. They came to Century to hold a conversation about "The Chinese Lady."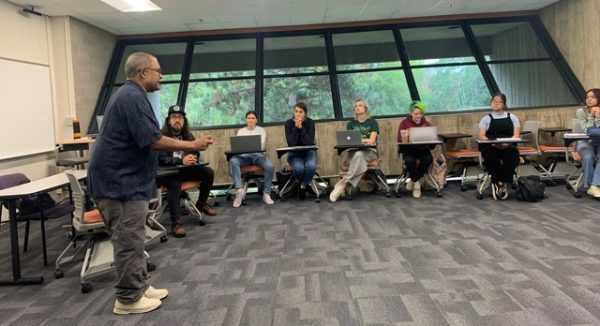 The conversation that they facilitated was meaningful and enlightening. Multiple thought-provoking questions were brought into the discussion, such as, "What is theatre to you?" The On Stage crew also led activities that made the participants think about the topic matter of "The Chinese Lady."
When discussing the racism that Afong Moy, the main character in "The Chinese Lady," faced, the On Stage team asked: "If an older person makes a racist comment, do you forgive them?" One side of the room said, "yes," one side, "no," and the center of the room said "maybe." Participants discussed their answers reflectively. It is vital to ask these questions of each other, and a facilitated conversation, such as the one facilitated by On Stage, is the perfect place to hold such dialogue.
The discourse that the educators at On Stage create is imperative to our future as a society. Discussing difficult issues such as racism is extremely important. Open dialogue generates open minds.
Check out On Stage at:
https://www.onstagemn.org/
Get tickets to "The Chinese Lady" today:
https://www.openeyetheatre.org/the-chinese-lady