On the Scene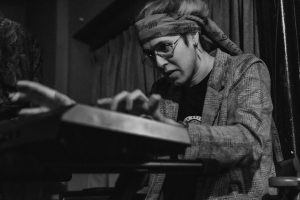 Minnesota is home to legendary musicians like Prince and Bob Dylan, so it's no surprise the local music scene is filled with so much talent. Groups like Atmosphere, The Replacements, Trampled by Turtles, and The Shackleton's all started their journeys performing at local venues in Minnesota, so I decided to take a closer look at the heart of Minnesota's music scene. 
Upon my dive into the local music scene, I stumbled across a new, up and coming band called Carry the Five. Carry the Five was formed by five friends who share a love for music. The members are Ben White (18), Tony Sorini (19), Neal Scott (19), Chris Chandler (20), and Will Suit (20). Two of which, White and Scott, are Century College students! 
The band met through a series of music related activities such as jazz band, all conference band, and Blues U. Sorini said they decided to form a band with each other because, "We just had good chemistry and honestly it's hard to find people our age that have the same chops we do, usually more older people play at our style and level." Chandler followed up with, "Yes and when I first heard Tony play a Led Zeppelin song, I immediately knew it was going to work." 
The band came up with the name from a night of just hanging out with each other. Chandler says, "Well we were talking about how a lot of musicians struggle with math." After a few laughs from the band, Chandler continues, "When someone said, 'Carry the Five' it was an 'ah-ha' moment and we knew that was the band name, since there are five of us." 
As the band was chatting about their biggest musical inspirations you could see the group's chemistry and their enthusiasm for all things music. Carry the Five all immediately agreed on Vulfpeck being their biggest influences. Sorini said when he discovered Joe Dart, his life changed. White stated his biggest inspirations were Jimmy Paige, Jimi Hendrix, Eric Clapton, Muddy Waters and Robert Johnson. Chandler followed with Steven Tyler and Led Zeppelin.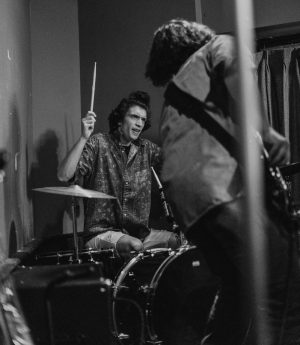 We eventually got around to talking about the band's ultimate direction and goals. Sorini said, "The sky is the limit. Right now, we are just getting gigs, growing our social media, and working on our EP coming out this summer." Their talents, passion for music, and hard work could take them far. Not to mention, selling out their first show ever isn't a bad way to start. 
The end of our interview was inspired by the iconic movie Almost Famous, asking what they love about music. Sorini stated, "It is a physical manifestation of my spiritual being and I am being myself at all times." White said, "Music is another artistic form of expression where you can just be yourself, no matter what." Suit followed with, "Music calms the mind and makes you peaceful. I can't imagine life without music, it would be dead silent, and I would probably go crazy." Scott adds, "Music is the only thing that makes me at peace. When I need to let go and not focus on anything, I play music. It's a way to express all of the emotions that you feel on a daily basis." 
It wasn't long before Chandler and Suit started a side conversation about the feeling music gives you. Chandler began by saying, "There are these certain songs that tell stories and it's a different way of telling a story, because you get a whole different emotion with it. People connect to music." Suit responds to Chandler, "Yes, and no one's meaning behind a song is exactly the same." Chandler finishes by stating, "That's the magic of music, everyone has their own meaning and interpretations. Music is a feeling."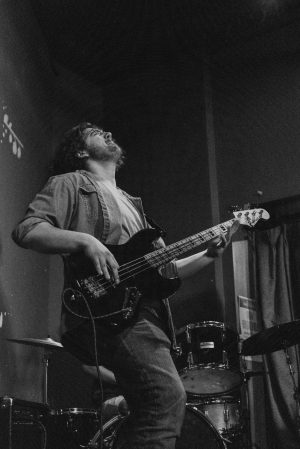 As I watched the band take to the stage for the first time, I could see that their passion for music and their uninhibited excitement to play would make for a great show. They played a combination of originals and covers with their own spin on it. The covers consisted of artists like Led Zeppelin, Five Man Electric Band, Ricky Nelson, and Culture Club. They describe themselves as a band that incorporates multiple music genres, including hard rock, classic rock, jazz, blues, and "Funk with a capital FUNK" as they all worded it.
Carry the Five definitely kept the crowd entertained the whole show. Each member of the band brought their own unique character to the stage. Sorini rocked the bass, Suit kept it groovy with his wicked pianist skills, Chandler gave the crowd chills with his powerful voice, Scott and White kept it cool by wearing a pair of shades and rocking out on the drums and guitar.  
Since their first gig ever, Carry the Five has continued playing gigs around the twin cities area and have more coming up. They also have their debut EP coming out this summer, called The Self Storage Sessions. To stay updated on upcoming shows and music releases follow them on instagramcarrythefive! 
Supporting Local Music 
You don't need to travel far or pay a lot of money to hear some great music. Minneapolis has been listed as one of the top ten cities in the country for its local music scene by multiple publications, including The Owl.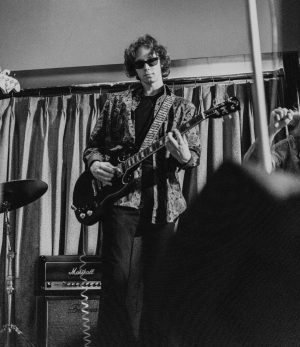 If you're wondering how to discover artists in the area, listening to local radio stations is a great way to start. The Twin Cities have dozens of radio stations that play music by independent musicians. Not to mention, it's a switch up from the typical top 100 songs most radio stations play. Radio stations like Radio K, Go96, The Current, and 93X all feature Minnesota based musicians. 
Reading publications, like City Pages and The Minnesota Daily, is another great source for finding music and events in the Twin Cities. They do features on local Minnesota artists, which include how and where to go to listen to them.  
Minnesota is home to many great venues that play live and local music. It is also good way to have a fun, cheap night out while supporting local businesses. Venues like Minnesota Music Cafe, Turf Club, Acadia, and many more host live bands from the area for a small admittance fee. When seeing Carry the Five at Acadia, I only paid five dollars. Places like these are the heart of Minnesota's music scene. 
Following artists on social media is a great way to stay updated on their upcoming shows, music releases, and show them support. There is so much to discover right here in the cities, you will not be disappointed, as there is something for everyone. 
Leave a Comment