What is Century Doing for the Environment, and What Can Students Do to Help?
Pam Thinesen, a biology teacher who has been at Century for over 20 years, talked to the Times about what Century College is doing to stay eco-friendly. Thinesen talked about a national climate commitment that was signed in 2007. With the signing of this climate commitment, a climate committee was started to make recommendations to administration about ways to reduce Century's impact on the environment. Another job of this committee was to encourage faculty to introduce sustainability across the curriculum. As campus sustainability coordinator, Thinesen was responsible for calculating yearly greenhouse gas emissions.
Unfortunately, Century lost the funding it needed to keep that climate committee fully functioning. It used to meet once every month and is now down to meeting twice a year. With the budget cut, Thinesen's sustainability coordinator position was terminated, leaving her disappointed.
On the topic of recycling, Thinesen states, "When I started here in 2000, there wasn't actually a recycling program. There were big, round 60-gallon buckets around certain parts of campus, but they weren't really marked. So, recycling and trash were going to the landfill. And over the next 7 years or so, with the help of a few people and students, we were able to get …[recycling] containers now."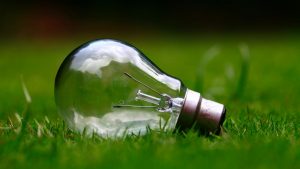 One big change that Century has made in the efforts of becoming eco-friendlier comes in the form of the West campus parking lot. According to Century's New Parking Lot: a Model of Eco-Friendliness by Nancy Livingston in the 2009 version of Century Bulletin, "…every drop of rainwater that falls on the West Campus $3.2-million parking lot goes through a treatment process before draining into the wetland complex south of the campus buildings." Livingston goes on to state, "Portions of the lot have porous asphalt pavement, and portions of the Stormwater Education Island also are composed of porous pavers and porous concrete, reducing runoff."
Thinesen explained that on campus you can see which parking spots are porous because the asphalt looks 'lumpy.' It is actually openings in the pavement for the rainwater to go into and go through a filtering system. This is to cut the amount of water run-off from the parking lots into the environment around them.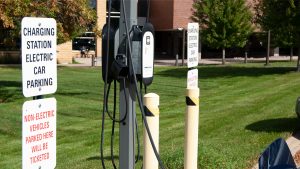 Century campus also has changed to energy saving lightbulbs in the buildings and LED lights in the parking lot fixtures on West Campus. They not only save on electricity, but help Century save over $20,351.00 a year. West Campus has switched to energy efficient chillers and high-efficiency hot water boilers. At one point the air conditioning on one campus was controlled using water that was sent from the other campus via large pipes that still stand across the bridge. Switching to the different chillers and boilers has stopped the need to send hundreds of gallons of water between East and West campuses.  Century also highly encourages faculty to purchase green office supplies that are either made from recycled parts, are easily recyclable, or are biodegradable. Century has toilets that save 2.2 gallons of water per flush, and automatic light switches that turn off when not needed. Century composts food waste from the cafeteria, and landscaping waste. East campus parking lot also includes a charging station for electric cars. As well as having solar panels outside the Science Library building on East Campus, Century also has classes in Solar and Renewable energy.
One change that Thinesen would like to see at Century campuses is the removal of bottled water in the vending machines and from the cafeteria. She described how the bottles are made with byproducts from processing oil and gas, and that the people living around the factories producing these bottles have higher rates of getting cancer, asthma, and other diseases due to the chemicals used in the making of the bottles.
Leave a Comment
About the Contributor
Emily Egemo, Managing Editor
I'm Emily Egemo, the Managing Editor for The Century Times. I have been a member of The Century Times for over a year. I write many different things for...