After an impressive 2022 season, the Century's women's volleyball team is back and performing exceptionally well in 2023.
Last season, the Wood Ducks achieved an overall record of 24-7, with a conference record of 14-2. As the 2023 semester begins at Century College, our Wood Duck Volleyball Team is ranked #1 in their division of the National Junior College Athletic Association. The team has maintained an incredible 16-1 overall record and has won their last 12 games in a row. Recent victories include 3-2 wins over the University of Northwestern St. Paul on September 12th and Minnesota West Community & Technical College on September 16th.
In an interview with The Century Times, coach Jay Kam shared insights into the team's achievements. Kam said that his coaching philosophy is, "Celebrating someone else's successes, even if it has nothing to do with you." He emphasizes core values such as self-respect and caring for others as motivating factors that have led to the Wood Ducks' consistent performance.
"I started a little bit of something, but the players really took off with it," Kam remarked.
The strong sense of community at Century College is evident in our pride and growth of the Wood Duck Volleyball Team. Player #10 Sydney Withrow explained the team's dynamics and goals. "Our overarching goal is to be good people, on and off the court," Withrow stated. She highlighted the team's practice of expressing gratitude to opposing teams, friends, family, trainers, referees, and officials who contribute to the game's success.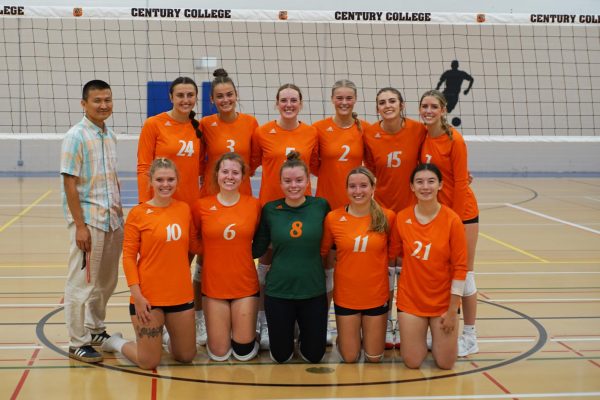 In interviews with Kam and Withrow, there was a common appreciation not only for other teams but also for the sport of volleyball. Withrow acknowledged everyone who had made it possible for them to play, especially their Athletic Trainer Jen Reddy and Assistant Coach Nikki Higley. She explained how she felt a sense of belonging within the Wood Duck Volleyball Team, and connected with the community at Century. Additionally, Withrow described how the Wood Ducks have actively engaged in community service. She mentioned a heartwarming event where the Wood Duck Volleyball Team volunteered at an assisted living home. The activities they participated in included painting nails, playing games, and singing karaoke, which eventually became a memorable dance party.
The Century College Wood Ducks' journey from their 2022 season to their exceptional performance in 2023 showcases their advancements on the volleyball court. In addition, the Wood Duck Volleyball Team is dedicated to core values and community. Their recent winning streak is a testament to their determination and teamwork.
The Wood Ducks' next home game is against the St. Cloud Technical & Community College on Wednesday, September 20th at 6:30 PM. You can find the schedule for the entire season here.