Black History Is American History: Blanche Kelso Bruce
Editor's note: This article is the twenty-fourth part of a series, Black History Is American History, by Kiarra Ballard. Each day in February, we will publish a new entry in the series, focusing on an influential Black figure from history. You can find all of the entries in this series here.
On March 1, 1841, Blanche Bruce was born in a plantation near Farmville, Virginia. His father, Pettus Perkinson, was the slave owner of his mother, Polly Bruce.
One of eleven children, Bruce was forced into enslavement and made to serve his half brother, William Perkinson. Bruce, despite his enslavement, was reportedly treated with respect and given virtually the same privileges as the Perkinson children. He worked with William's personal instructor and, according to contemporary accounts, was an enthusiastic student. Bruce, however, fled to Kansas during the Civil War in an effort to join the Union Army. This act of desperation counters the claims that he was treated well by the family that enslaved him. 
Soon after, he established the first school in the state for Black students in 1864, on the eve of the conclusion of the war. For the young Black people in his neighborhood, this was only the beginning of his efforts to better their lives. 
The youthful and eloquent Bruce impressed white Republicans on a trip to Jackson in 1870, leading to his appointment as registrar of voters for Tallahatchie County. He became Bolivar County's sheriff and tax collector in 1871 after his election. The Republican-controlled state board of education named him county superintendent of schools shortly after. As a result of his efforts, the Bolivar County school system was widely regarded as one of the finest in the state, despite its segregated status. His efforts in education received the support of both the Black and White populations. 
On March 5, 1875, when Bruce entered the United States Senate Chamber, he was supposed to be escorted to the podium by the senior Senator from his state, but he made the journey alone. During his time in the Senate, Bruce fought tirelessly for the civil liberties of African-Americans. He pushed hard to remove racial segregation in the military services and was an ardent protector of Black troops. 
His term as Senator lasted from 1875 to 1881, during which time he fought for equal rights for African-Americans, Native Americans, and Chinese Americans. He pushed for improved racial harmony and safer navigation on the Mississippi River. A significant portion of his efforts were directed on preventing electoral fraud and corruption at the national level. 
He remained a Washington resident until his death on March 17, 1898, from renal disease brought on by diabetic issues. 
Sources:
https://history.house.gov/People/Detail/10029
Leave a Comment
About the Contributor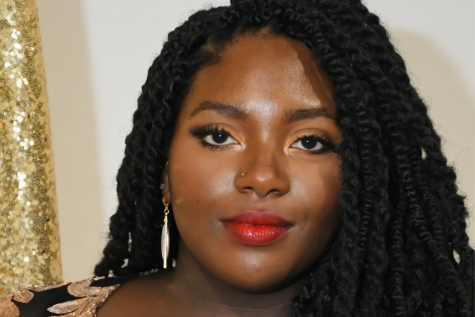 Kiarra Ballard, Writer
Kiarra is a Computer Science major pursuing the creative writing certificate. When not writing or reading, she can be found patching holes in her curtains...