Black History Is American History: Maya Angelou
Editor's note: This article is the twenty-eighth part of a series, Black History Is American History, by Kiarra Ballard. Each day in February, we will publish a new entry in the series, focusing on an influential Black figure from history. You can find all of the entries in this series here.
Maya Angelou was a renowned American poet, author, actress, and civil rights activist. She was born Marguerite Annie Johnson on April 4, 1928, in St. Louis, Missouri. Her parents divorced when she was young, and she and her brother were sent to live with their grandmother in rural Arkansas.
Angelou's early life was marked by trauma and adversity. At the age of eight, she was sexually assaulted by her mother's boyfriend. When she told her family what had happened, the man was arrested and jailed, but he was released after one day and subsequently murdered, allegedly by Angelou's uncles. The incident left Angelou feeling guilty and believing that her voice had the power to kill.
Despite the challenges she faced, Angelou was a bright and curious child who loved literature and writing. She began writing poetry at the age of nine and went on to study drama and dance at San Francisco's Labor School.
Angelou's career as a writer began in the 1950s when she worked as a calypso singer in San Francisco and New York. She later moved to Egypt and Ghana, where she worked as a journalist and became involved in the civil rights movement.
In 1969, Angelou published her first memoir, "I Know Why the Caged Bird Sings," which became an instant classic and made her a literary icon. The book tells the story of her early life in Arkansas and chronicles her struggles with racism, sexism, and poverty.
Over the course of her career, Angelou wrote more than 30 books, including poetry collections, cookbooks, and autobiographies. She was also a celebrated actress, appearing in films such as "Roots" and "Madea's Family Reunion" and on TV shows like "Touched by an Angel" and "Sesame Street."
Angelou was a passionate advocate for social justice and civil rights. She worked with Martin Luther King, Jr. and Malcolm X and served as a coordinator for the Southern Christian Leadership Conference. She was also a professor of American Studies at Wake Forest University in North Carolina.
Angelou received numerous awards and honors throughout her life, including the Presidential Medal of Freedom, the National Medal of Arts, and three Grammy Awards. She passed away on May 28, 2014, but her legacy lives on through her writing and activism, which continue to inspire and empower people around the world.
Sources:
https://www.womenshistory.org/education-resources/biographies/maya-angelou
Leave a Comment
About the Contributor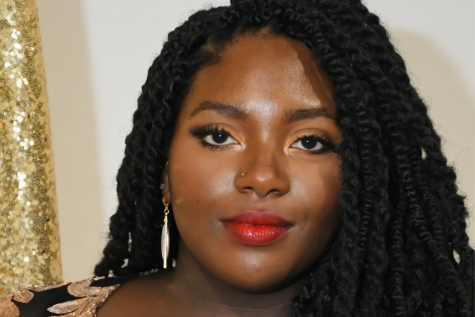 Kiarra Ballard, Writer
Kiarra is a Computer Science major pursuing the creative writing certificate. When not writing or reading, she can be found patching holes in her curtains...